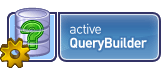 Active Query Builder VCL Edition
Visual SQL Query Builder for Delphi and C++ Builder
Active Query Builder VCL Edition is a visual query builder component suite that allows your end-users to build SQL queries with unions and subqueries via an intuitive visual interface.
Active Query Builder VCL Edition has a powerful SQL parser that lets you analyze and modify complex SQL queries. Active Query Builder is a true two-way query builder, so that you can combine visual query building with direct SQL query text editing.
Active Query Builder VCL Edition requirements
Supports Borland Delphi 5-7, Borland C++ Builder 6, BDS 2005-2010, and all RAD Studios up to XE6 (Delphi and C++ Builder development environments).

Can be linked with any data access components.

Successfully tested in x64 applications.

Can be compiled with standard VCL, TNT or DevExpress controls.
کامپوننتی برای دلفی جهت افزودن امکانات ساخت Query به برنامه خود به صورت نمادین و بدون استفاده از کد نویسی SQL در حالت Runtime

Tags : Active Query Builder VCL Edition Delphi