ReportBuilder
is the defacto standard for Delphi reporting solutions. Delphi developers have consistently voted ReportBuilder Product of the Year (1999 - 2002) and Best Reporting Tool (1999 - 2003). The genesis of ReportBuilder was the desire to deliver a product that does for Reporting what Delphi has done for Windows programming. In that spirit, ReportBuilder provides both a RAD environment and an object-oriented platform for solving the reporting equation.
Editions |

Enterprise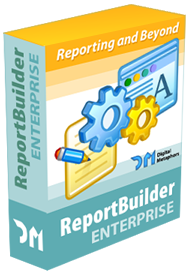 With ReportBuilder Enterprise, you get everything included in ReportBuilder Professional, plus the RAPlanguage, which allows developers and end users to code calculations and complex event handlers at run-time. RAP enables the entire report definition (data, calculations, and layout) to be stored outside of the application executable. (See What Is RAP?)
In the introduction to ReportBuilder, the reporting equation is described. The reporting equation divides reporting into four main activities:
In ReportBuilder Enterprise, the goal is to deliver a full-fledged reporting solution to end users. This goal is achieved by delivering visual, easy-to-use solutions in each of these four areas. This screen shot of the ReportBuilder Report Designer shows the ergonomic design of the user-interface.
ReportBuilder Enterprise یک کامپوننت برای طراحی و ایجاد انواع گزارشات در دلفی میباشد . این کامپوننت یکی از بهترین ها در زمینه طراحی گزارشات بوده و کار با آن ساده و لذت بخش است و با امکاناتی که در اختیار کاربر خود قرار میدهد میتوان گزارشات بسیار پیچیده ای را ایجاد نمود .

از قابلیتهای اصلی :
ایجاد انواع جداول

زوم بر روی صفحات

پشتیبانی از بارکدهای QRCode

پشتیبانی از بارکدهای DataMatrix

تولید خروجی با انواع فرمتهای PDF و XLS و ...

و بسیاری امکانات دیگر

Tags : ReportBuilder Enterprise Delphi